"Let us pray." "Let us remember that we are in the presence of God." "Let us remember that we are in the presence of our God." "Let us be in an attitude of prayer." "Please center yourself." I hear these phrases all the time as the leader seeks to gain control over his or her group. I do fully understand the need to bring people to focus on what is happening; to bring the group to quiet so the prayer can be made. More importantly and objectionably, I understand that the leader is invoking each person's sense of God and his/her commitment to God to gain their attention and respect. In a way, instead of relying on his/her own earned respect, the leader is invoking the person's already-held...

I recently heard a respected priest speak from the pulpit about persecuted Christians being slaughtered in the Middle East, particularly in northern Iraq right now. He prayed that the people would "hold onto their Christian teachings." The word slaughter, in this case, means the killing of great numbers of human beings, and from what I hear on the news, it is being done in the most awful ways. People have been killing one another for their religious beliefs for a very long time. The end result of this senselessness is, quite obviously, that there are a lot of dead people. Lives are ruined, families are destroyed, society is harmed, the human race is diminished. Our response? "Hold onto your Christian teachings?!" Can we do better than...

The pastor or priest is the master delusionist. His job is to present a delusion to you, reinforce it constantly, and ask you to pay for his effort. A liar is a delusionist too, but a master delusionist would be one who is very nice to you, speaks in a soft tone, shows restraint and diplomacy when challenged, and may actually believe the delusion he is promoting. Here is an entertaining little exercise: Go to church and, on the bulletin, keep score with little tally marks every time you hear something that is false, unsubstantiable, or a baseless declaration of fact. Try to be as objective as you possibly can be. When you hear something, ask yourself, "Is this true?" If the answer is "no," put a hash mark.  I have done this and it is...

"Remember we're in the presence of God." "I will pray for you." "God will help us." "Thank God we made it out alive." We credit God with everything good in our lives. We implore God to help us with everything that is bad in our lives. We praise God. Well here's a dose of reality. If God is worthy of thanks for the person who survived the car crash, then God is also responsible for NOT saving the life of the one who died. If God has blessed us with an abundance of food, he is to be blamed for the lack of food in other parts of the world where people are dying of starvation. So should we be angry at God then? No, of course not. God is a figment; its all a delusion. God is our delusion. It's a grand...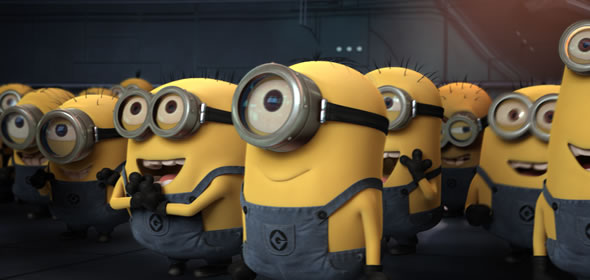 Are you a master or a minion? In the Despicable Me world, minions are "naive and impulsive with little self control." In the real world, minions are also naive and are controlled by others. In the real world, people who are in control (of themselves and/or others), I will call masters. As you can guess, I would recommend you not be a minion! You are a minion if you allow others to dominate you. If others compel you by an unverifiable belief system or by religious guilt, or by lording power over you in some other way, then I am here to help you make the shift from minion to master. Priests, pastors, and religious (brothers, sisters) all consider themselves to be masters. They are in charge of their minions and exercise power over them –possibly...